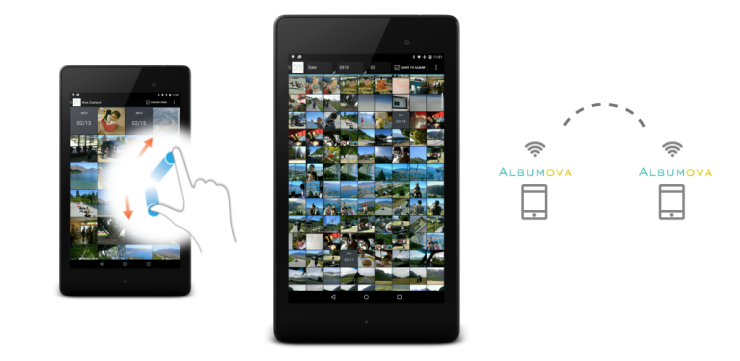 »日本語


View pictures of the smartphone / digital camera / tablet together. ↑
You can browse the pictures of the smartphone and the digital camera easily
by date or folder.
Display the pictures on NAS and the Media Server (DLNA) quickly.
If you don't have a NAS server, there are Wi-Fi routers that works as a Media Server with external HDD.
Check out your Wi-Fi router.
All your pictures in one album. ↑
ALBUMova corresponds to Android2.2-, so you can view and copy the pictures
in old device to a new smartphone / tablet.
Choosing whether data is copied or isn't in every album is available,
so you can make a new album surely even when a SD card has a small capacity.
Sharing pictures with another smartphone, or the tablet over Wi-fi. ↑
By one click, you can share the pictures in your device easily.
It makes local pictures accessible as a Media Server (DLNA).
Showing all EXIF information. ↑
ALBUMova displays all meta information on the photo (EXIF).
If a picture has geographical information, a map is displayed.
Mail attachment, Facebook album, Google+, Dropbox… ↑
Share one or multiple pictures with other apps.
Zooming grids by a pinch in / pinch out. ↑
In all the grid screen, pinch in / pinch out zooming is available.
Two theme. ↑
Dark and Light, twho theme is switchable.
Screen captures ↑
Download ↑
* About Free version
Album's data copy option is disabled.
Display ads.
This app never collect personal data and device information.
There is no expiration.
The album created in free version can be export/import to normal version.
Please choose all pictures in the album, then "Share" to normal version.
Contact ↑